Well, it's finally here: The Boy in The Striped Pyjamas is finally going to be released. I personally have been looking forward to this ever since I found out that David was going to be in it. A few weeks after the news broke, I was in the library and saw it in the withdrawn section for 20p. It was an almost new hardback but the reason for its cheap price was that there was a small bloodstain on one of the pages (not much blood and it was on a page with no writing but hey it was a bargain). I recommend the book to ANYONE, child or adult. It's a fantastic look into how things are seen through the eyes of the child.

I've not seen the film but I can honestly see David in the role of Father. I think his role is complex because he has to portray him in a way that he is through the eyes of a child whilst at the same time, the audience doesn't forget what his role in the film is (I'm not saying anymore because I don't want to spoil it).

Anyway, there were two reviews I saw this week in the Sunday papers my mum buys: The Sunday Mirror and The People. I have scanned them in and put them under a lj cut tag but if you don't want spoilers, I'll just say the basics:

a) Both papers give it 4/5 and compared to the other films reviewed in each paper, it is the highest rated film this week (although The People accidentally states it's The Boy WITH the Striped Pyjamas lol)
b) Both praise David enormously (Richard Bacon in the People states: Bruno is the son of a ************ **** ********** (played by one of the best actors around, David Thewlis) and The Sunday Mirror states: David Thewlis offers a suitably complex and thoughtful performance as Bruno's father (words replaced by asterisks because I don't want to spoil it for anyone who doesn't know yet)

Anyway if you want to see the reviews in full, go under the lj cut tag and enjoy! There will hopefully be a review in the film supplement of the Mirror on Friday and I will scan it for you lot, if you want.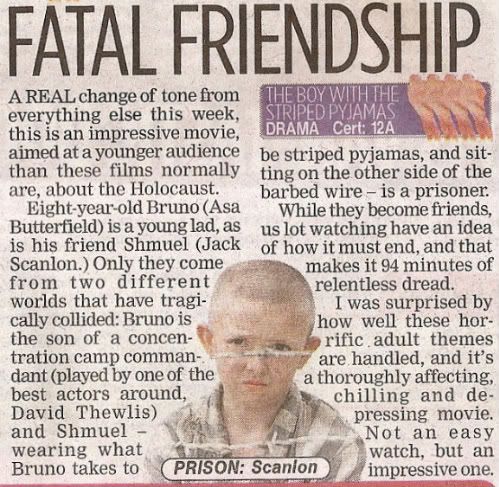 Blessed Be!

Helen
xxxxx